[Dieser Beitrag enthält Werbung] Wenn wir darüber nachdenken, was bestimmte Dinge für uns so besonders macht, warum sie uns faszinieren und dieses einzigartige Gefühl geben, fällt schnell auf, dass sie alle etwas gemeinsam haben: sie sprechen nämlich mehrere unserer Sinne gleichzeitig an und je mehr es sind, desto eindrucksvoller ist ihre Wirkung. Denn mit allem, was wir wahrnehmen – was wir sehen, hören, schmecken, tasten oder riechen – speichert und verknüpft unser Gedächtnis bestimmte Botschaften, Emotionen und Eindrücke, an die wir uns immer wieder erinnern, sobald sie durch unsere Sinne getriggert werden.
---
[Advertisement]] When we think about what makes specific things special for us, why they fascinate us and how they give us this unique feeling, it becomes apparent that they all have something in common: they address several of our senses simultaneously and the more senses they appeal to, the more impressive is their effect on us. Our memory saves and connects certain messages, emotions, and impressions to everything that we see, hear, taste, touch or smell and we get reminded of these as soon as our senses are triggered.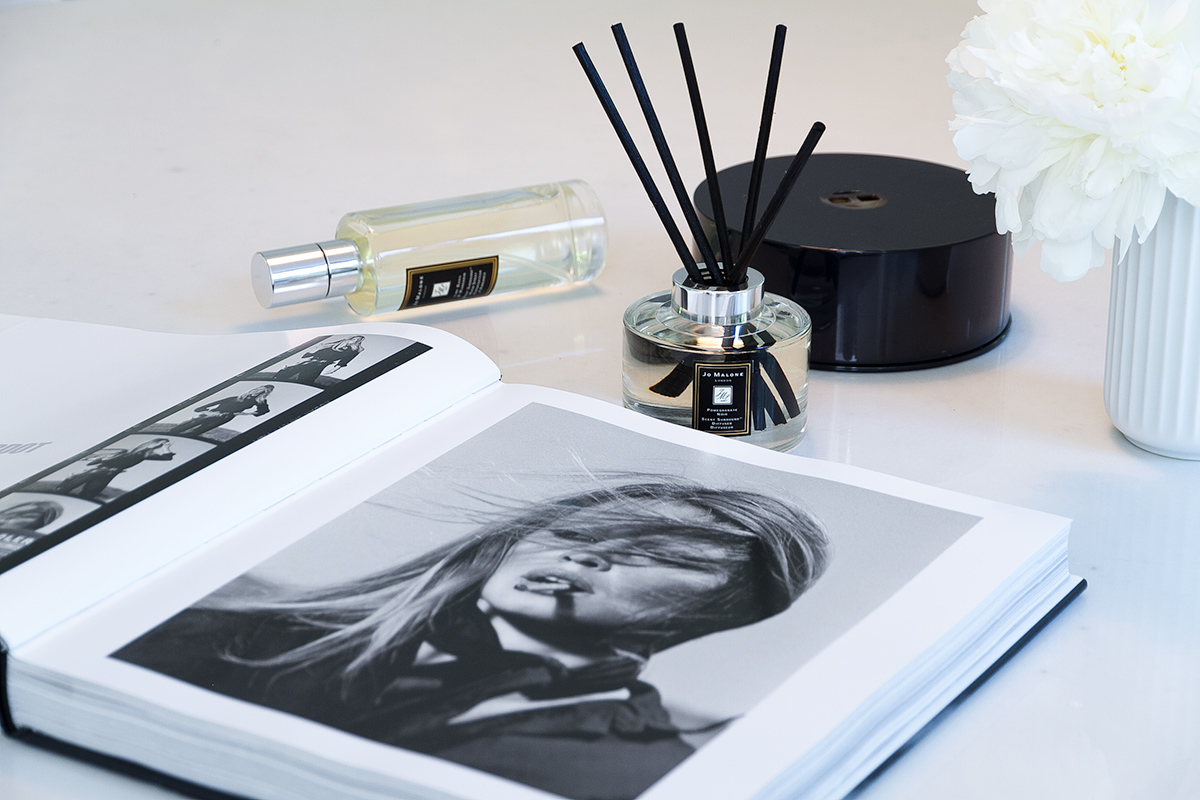 Scents & Senses
Daher liebe ich es, mich besonders zu Hause gezielt mit schönen Dingen zu umgeben, die alle Sinne ansprechen, denn hier möchte man sich einfach besonders wohl fühlen. Dazu gehören Bilder und Objekte die ich gerne anschaue sowie Möbel und Materialien, die gemütlich sind und sich toll anfühlen. Gute Musik und etwas leckeres zu essen zählt auch dazu und ganz besonders ein schöner Duft. Die Wahrnehmung von Gerüchen hat nämlich die direkteste und schnellste Verbindung zu unserem Gedächtnis. Dieses Phänomen habt ihr sicher auch schon oft erlebt, dass ein bestimmter Duft im Bruchteil einer Sekunde besondere Glücksgefühle in euch auslösen kann. Das macht den Duft eines Raumes essenziell für unser Wohngefühl. Was gibt es also Schöneres, als sein Zuhause in die Lieblingsdüfte einzuhüllen?
---
Therefore, I love to surround myself with beautiful things, especially at home, that appeal to all my senses. After all, at home is where you want to feel good. So pictures and objects that I like to look at, as well as furniture and materials that are cozy and feel great, are essential. Good music and something delicious to eat is also part of it as well as a nice scent. The perception of smell has the most direct and fastest connection to our brain. You certainly already have experienced this phenomenon that a particular scent triggers a special feeling of happiness in just a fraction of a second. That makes the scent of a room essential for our sense of living. So what could be better than to fill your home with your favorite scents?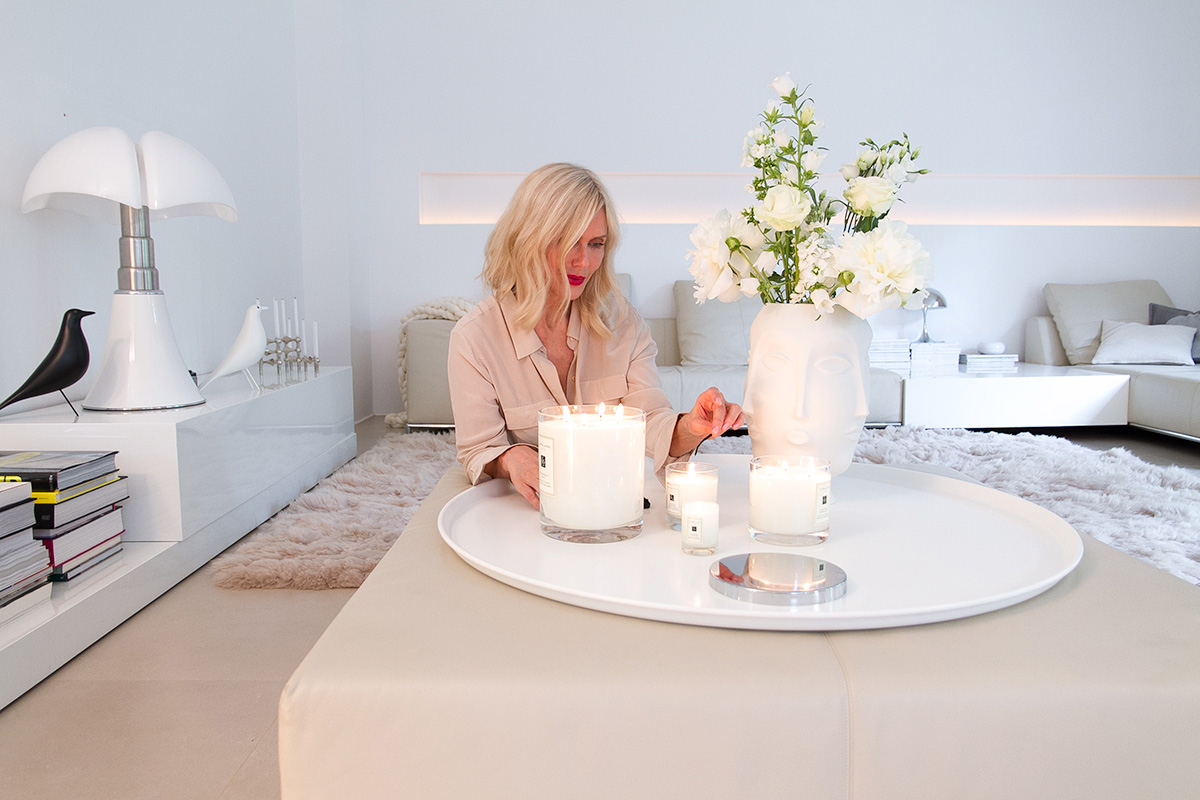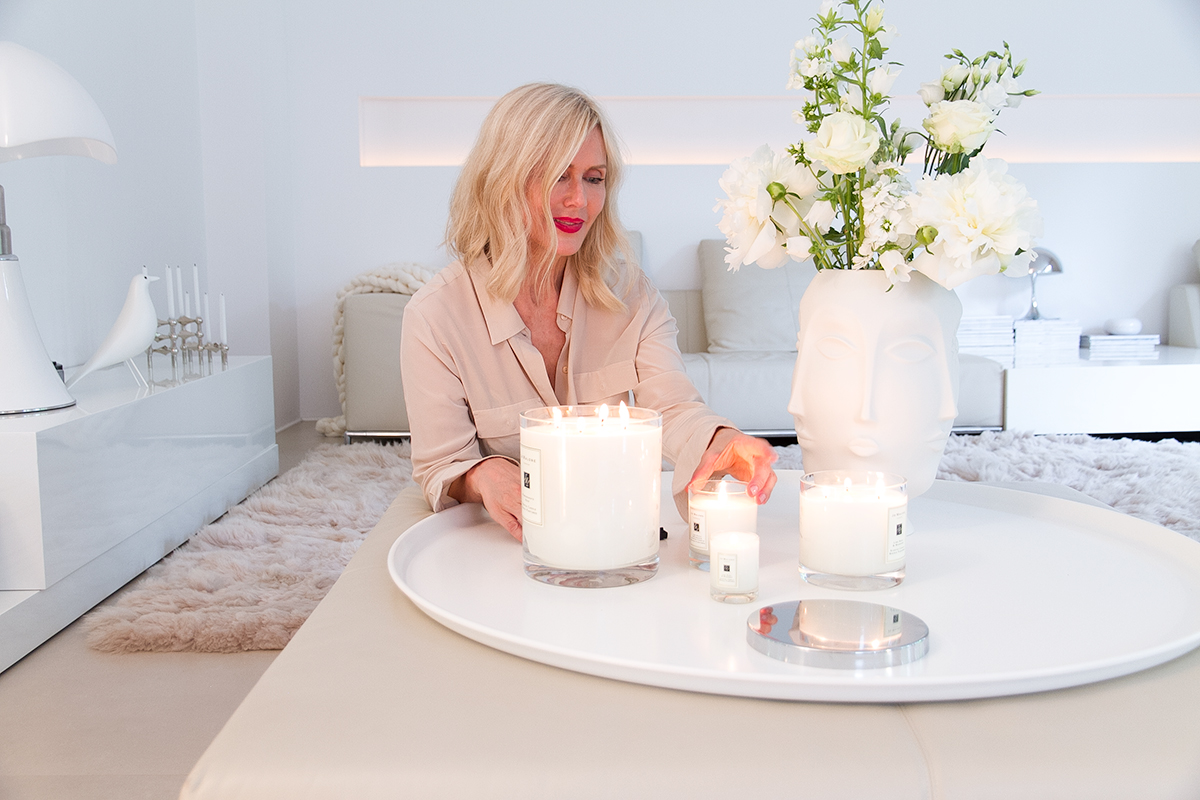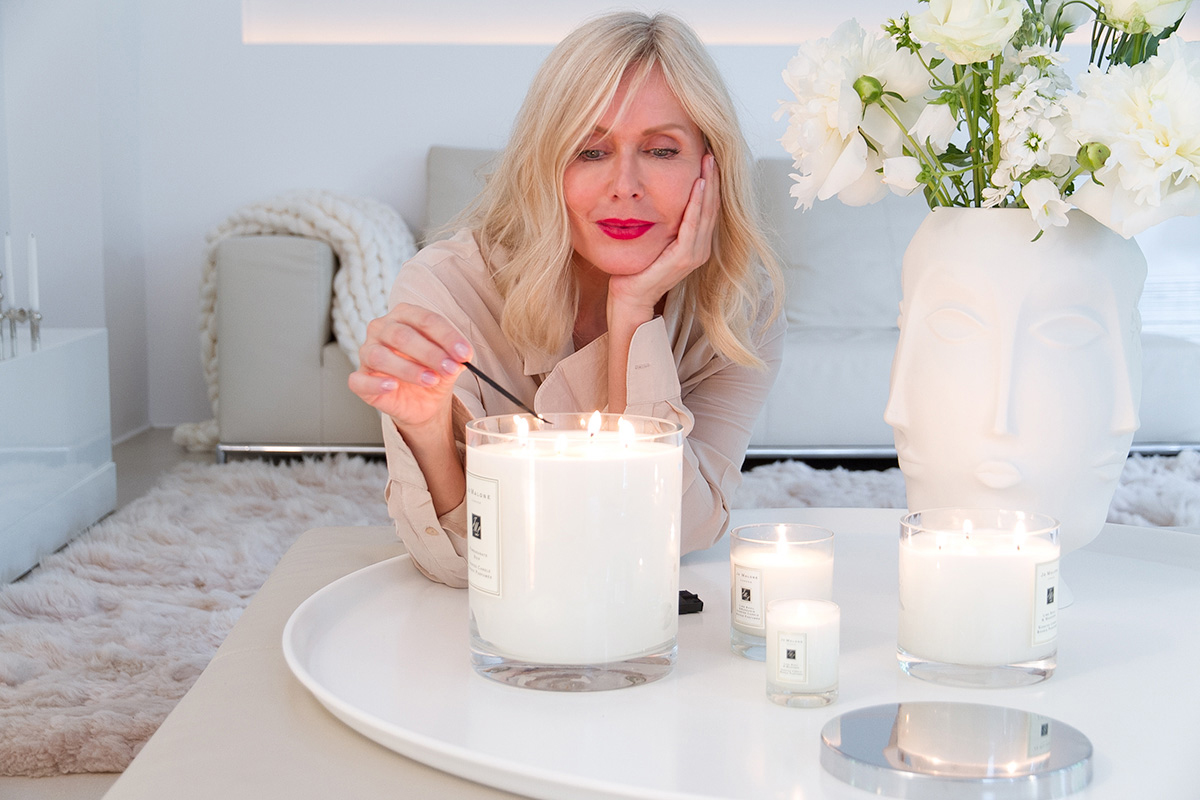 Jo Malone London
Als riesengroßer Jo Malone London Fan der ersten Stunde, kreiere ich mein Wohlfühl-Ambiente seit Jahren mit ihrer Home Serie. Die spricht nämlich, zu der olfaktorischen Wahrnehmung auch nahezu alle anderen Sinne an, die mein Designerherz höher schlagen lassen. Das beginnt schon beim Auspacken der wunderschönen Geschenkboxen und dem Geräusch des raschelnden, schwarzen Seidenpapiers und geht beim Anblick der klassischen und eleganten Flakons aus geschliffenem Glas weiter. Sie sind ein echter Augenschmaus und dazu noch ein haptischer Genuss. Es ist einfach angenehm, wenn sich Dinge auch gut anfühlen.
---
As a huge, long-time Jo Malone London fan, I have created my feel-good ambiance with her home series for years. In addition to the olfaction, it speaks to almost all senses and makes my designer heart beat faster. The experience starts with the unpacking of the beautiful gift boxes and the sounds of the rustling, black tissue paper and continues with a look at the classic and elegant flacons made of cut glass. They are real eye candy and a haptic pleasure. It's just nice when things feel good.
Liftime pieces
Wer mich kennt, weiß dass ich das genaue Gegenteil eines Sammlers bin und es zu Hause eher minimalistisch und überschaubar mag. Ich liebe es, schönen Dingen Raum zu geben und ein harmonisches Gesamtbild zu schaffen, das Ruhe und Entspannung vermittelt. Von drei Wohnaccessoires kann ich dabei aber nie genug bekommen und das sind, neben schönen Coffee Table Books und Vasen, die exklusiven Kerzen von Jo Malone London. Diese schlichte Eleganz der klassischen Glaszylinder mit ihren silbernen, gravierten Deckeln ist einfach besonders edel und ihr duftendes, flackerndes Kerzenlicht taucht die Umgebung in eine wunderschöne Atmosphäre. Einfach tolle Deko-Highlights. Wenn die Kerzen runtergebrannt sind, eignen sich die Gläser übrigens auch toll als dekorative Aufbewahrung für Utensilien auf dem Schreibtisch und im Bad, oder als kleine Vasen. Egal wo man bei mir hinschaut, stehen meine Jo Malone London Faves. Von Hand Wash- und Lotionspendern in der Küche und den Bädern, über Duftkerzen und Diffuser in den Wohnräumen bis hin zu Raum- oder Wäschesprays, die ich gerne für süße Träume auf meine Kissen sprühe. Ich gerate ganz schön ins Schwärmen wenn es um Jo Malone London geht. Das liegt sicher auch daran, dass ich besonders schöne Erinnerungen mit den Düften und auch an London verbinde. Mit diesem einzigartigen Mix aus Tradition, zeitloser Eleganz aber auch unkonventioneller Besonderheit und einer Menge Charme.
---
Anyone who knows me knows that I am the exact opposite of a collector and that I keep things rather minimalistic and manageable at home. I love to give space to beautiful things and to create a harmonious overall picture that conveys peace and relaxation. But I can never have enough of three special home accessories and these are, besides beautiful coffee table books and vases, the exclusive candles from Jo Malone London. The simple elegance of the classic glass cylinders with its silver, engraved lids is just particularly noble and its fragrant and flickering candlelight fill the environment with a beautiful atmosphere. Just great decoration highlights. When the candles have burned out, the glasses are suitable as a decorative storage for utensils on the desk and in the bathroom, or as small vases. No matter where you look at in my home, you can see my Jo Malone London favorites everywhere. You find everything from hand wash and lotion dispensers in the kitchen and bathrooms to scented candles and diffusers in the living rooms. There are also room or linen sprays, which I like to spray on my pillows for sweet dreams. I get super excited when it comes to Jo Malone London. It's probably due to the nice memories I connect with the scents and with London. This unique mix of tradition, timeless elegance, unconventional peculiarity and a lot of charm.
Combining
Geschmäcker sind natürlich sehr verschieden, auch der Sinn für Ästhetik ist individuell und wir alle verbinden mit bestimmten Eindrücken ganz andere Erlebnisse. Unter all den wunderschönen Düften findet aber garantiert jeder seine speziellen Favoriten und die lassen sich auch besonders toll zu ganz eigenen und einzigartigen Kreationen kombinieren. Probiert es mal aus und schnuppert euch in einer Jo Malone London Boutique durch die verschiedenen, extravaganten Kombinationen. Das geht am einfachsten, indem ihr eure Lieblingsdüfte auf Teststreifen sprüht und diese zum Experimentieren versetzt nebeneinander haltet. Mein ganz spezieller Lieblingsduft ist zum Beispiel momentan eine Kombination aus 'Myrrh Tonka' und 'Wood Sage & Sea Salt'. Ich mag diese orientalische Herznote im Mix mit der Frische und Reinheit des Meersalzes. 'Dark Amber & Ginger Lily' mag ich auch sehr. Bei der Home-Serie sind meine Faves immer 'Lime Basil & Mandarin' und 'Pomegranate Noir'.
---
Tastes are naturally very different, also the sense of aesthetics is individual and we all connect very different experiences with certain impressions. Among all the beautiful scents, everyone will surely find their special favorites and they can be perfectly combined to make your very own unique creations. Give it a try and get a taste of the different, extravagant combinations at a Jo Malone London Boutique. The easiest way to do that is by spraying your favorite scents onto test strips and to hold them next to each other while smelling them. For example, my very special favorite fragrance is currently a combination of 'Myrrh Tonka' and 'Wood Sage & Sea Salt'. I like the oriental heart note in the mix with the freshness and purity of the sea salt. I also like ,Dark Amber & Ginger Lily' very much. In the home series, my favorites are always 'Lime Basil & Mandarin' and 'Pomegranate Noir'.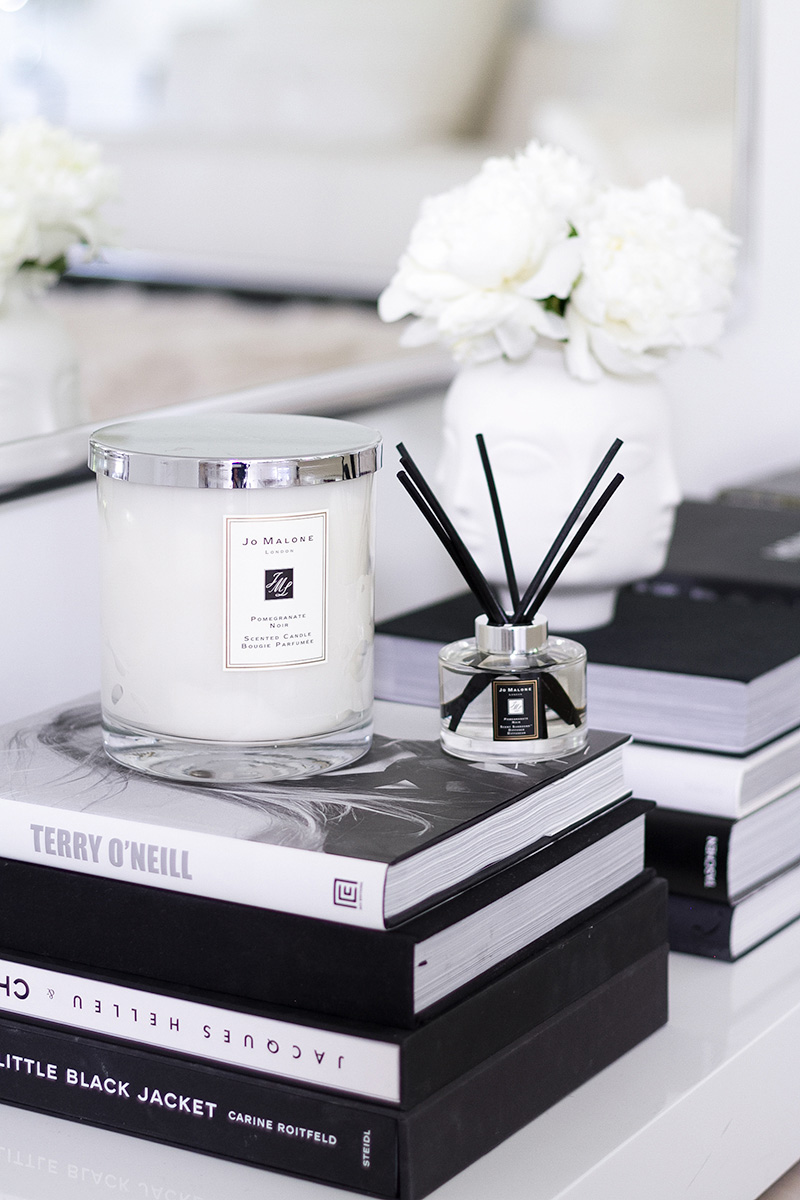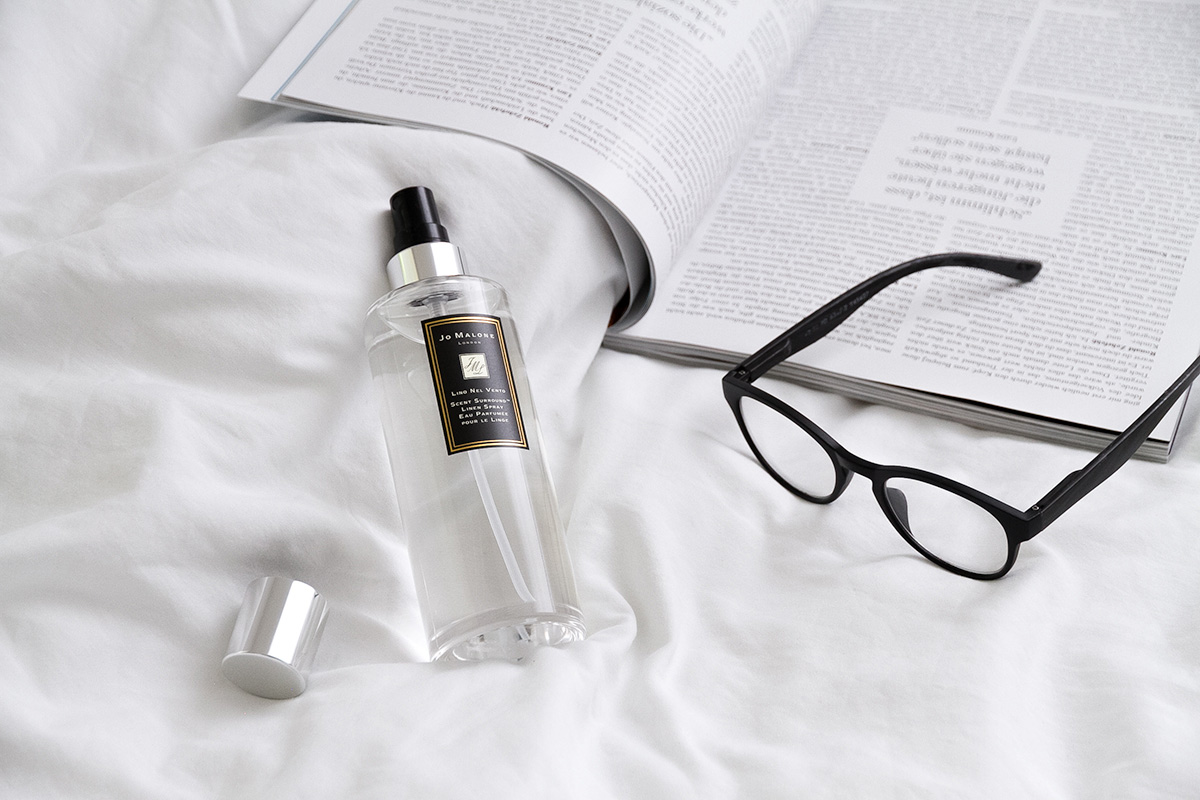 Art of Giving
Zu meinem großen Glück hat hier in Köln gerade eine Jo Malone London Boutique eröffnet. Dort springe ich öfter mal rein, um schöne Geschenke zu verschiedenen Anlässen für Familie und Freude zu besorgen. Die kultigen, cremefarbenen Boxen mit dem schwarzen Schleifchen lassen sich ganz individuell befüllen und was gibt es Schöneres als ein bisschen Luxus zu verschenken: Düfte, Kerzen, Bade- oder Körperpflegeprodukte – hier ist für jeden das Richtige dabei und gleich wunderschön verpackt.
---
Luckily, a Jo Malone London boutique has just opened here in Cologne. I often drop by to get nice gifts for different occasions for family and friends. The iconic, cream-colored boxes with the black bows can be filled with whatever product you want to purchase and isn't it great to give away such luxury: scents, candles, bath or care products – the right thing for everyone can be found here and it is beautifully wrapped right away.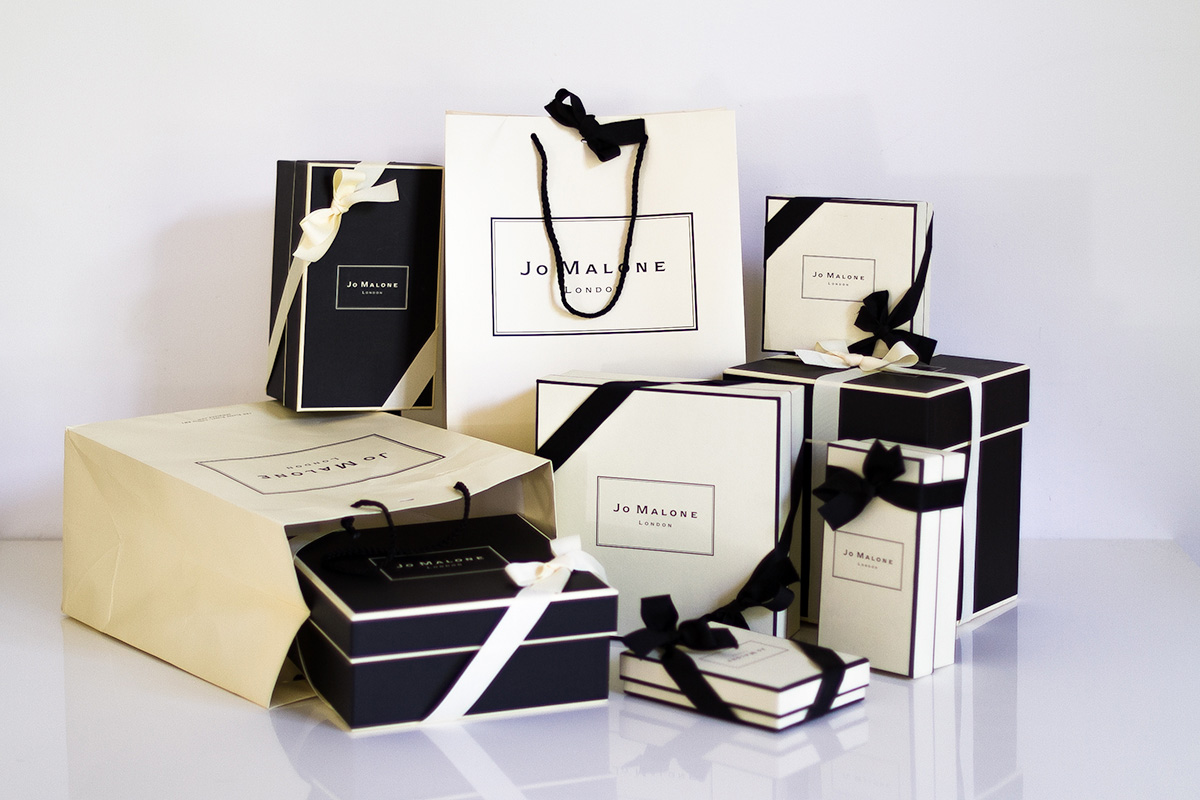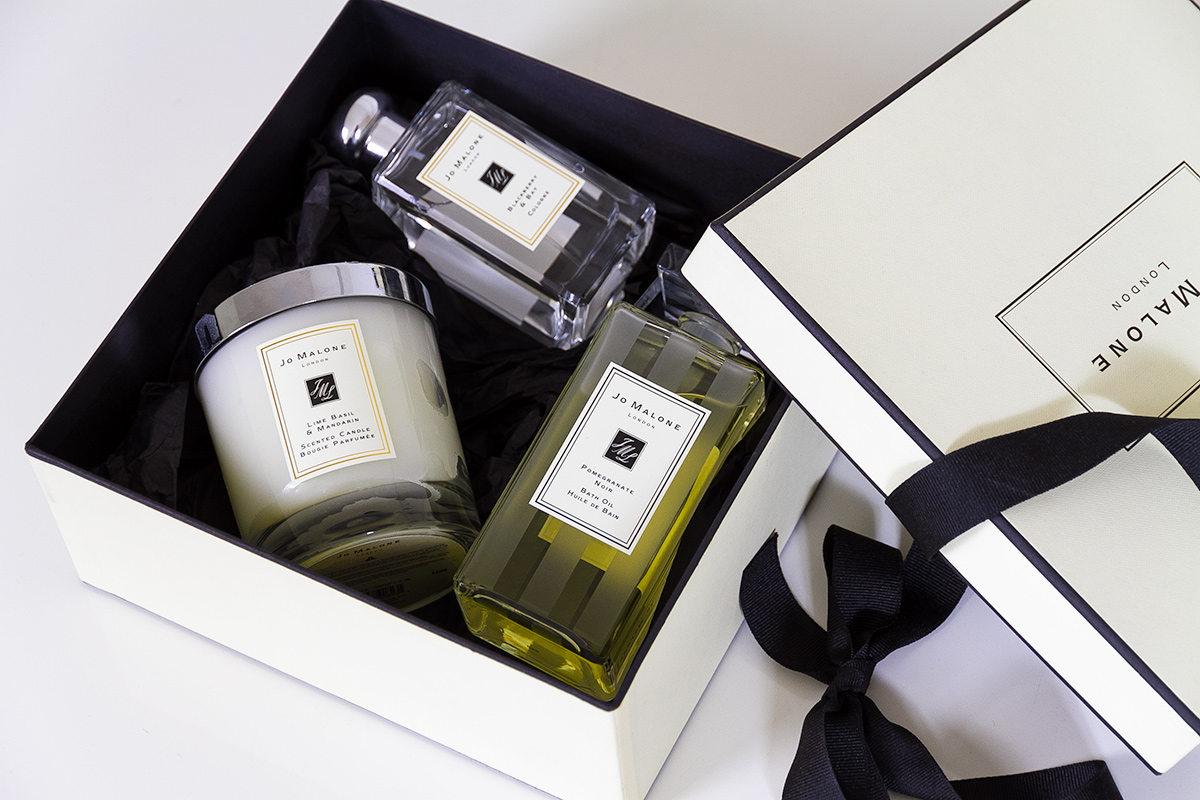 Tips
Wenn unter euch auch Jo Malone London Fans sind, freue ich mich sehr auf eure Duft-Empfehlungen oder Tipps zu neuen Kombinationen, die ihr ganz unten auf dieser Seite in einem Kommentar hinterlassen könnt.
---
If you are also a Jo Malone London fan, I would be really happy if you left a comment at the bottom of the page giving me some fragrance recommendations or tips on new combinations.
#StyleYourScent #FragranceCombining #JoMaloneLondon