Advertisement | Anyone who knows me well is aware that one of my first blog posts would be dedicated to the Breton shirt. And here it is, my homage to the striped shirt:
•
Dieser Beitrag enthält Werbung | Jedem der mich gut kennt war klar, dass einer meiner ersten Blogbeiträge dem Breton Shirt gewidmet würde. Und hier ist sie, meine Hommage an das Ringelshirt:
Essential
I am, besides Jean Paul Gaultier, probably the greatest fan of striped tops, and I don't feel more comfortable in any other piece of clothing. It is simply a wardrobe essential, because it has something special and it is no coincidence that it has so many lovers. From Alexa Chung to Chiara Ferragni, Maja Wyh and Caroline de Margret to Olivia Palermo – everyone loves it. The striped shirt just puts you in a good mood, which may be a result of the image we associate with the casual shirt: Côte d'Azur, sun, harbor, a glass of red wine, baguette, laughter and l'amour.
•
Ich bin nämlich, neben Jean Paul Gaultier, der wahrscheinlich größte Fan des Streifentops und fühle mich in keinem Kleidungsstück wohler. Es ist einfach das Kleiderschrank-Essential überhaupt, denn es hat etwas Besonderes und nicht umsonst so viele Liebhaber. Von Alexa Chung über Chiara Ferragni, Maja Wyh und Caroline de Margret bis Olivia Palermo – alle lieben es. Das Streifenshirt macht einfach gute Laune, was vielleicht auch ein wenig an dem Bild liegt, das wir mit dem lässigen Shirt assoziieren: Côte d'Azur, Sonne, Hafen, ein Glas Rotwein, Baguette, Lachen und l'Amour.

The History of the Breton Shirt
But where does the striped shirt come from? It was made in Brittany in 1858 as part of the naval uniform. Its stripes were initially functional in character and served to safeguard the sailors, who could therefore be better seen in the ocean waves. These shirts had exactly 21 stripes, which symbolized every victory of Napoleon. Soon the Breton fishermen also wore the striped shirts and inspired Coco Chanel during a harbor walk. In 1917 she designed the collection "Marinière", and the stripes found their way into the Parisian fashion world. From then on everybody loved the stripes. Even Picasso was keen on the clear graphic pattern. In the 1960s, there were stars like Brigitte Bardot, Audrey Hepburn, James Dean and Jean-Paul Belmondo, who wore the Breton shirts in their films, causing further fashion hype.
•
Aber wo kommt das Streifenshirt eigentlich her? Es wurde 1858 in der Bretagne für die Marine-Uniform angefertigt. Seine Streifen hatten zunächst funktionalen Charakter und sollten der Sicherheit der Matrosen dienen, die damit in den Meereswellen besser zu erkennen waren. Diese Shirts hatten exakt 21 Streifen, die jeden Sieg Napoleons symbolisieren sollten. Bald trugen auch die Bretonischen Fischer die Ringelshirts und von ihnen ließ sich Coco Chanel bei einem Hafenspaziergang inspirieren. Sie entwarf 1917 die Kollektion "Marinière" mit der die Streifen ihren Weg in die Pariser Modewelt fanden. Von da an liebten alle die Querstreifen. Selbst Picasso war von dem klaren grafischen Muster angetan. In den 60er Jahren waren es dann Stars wie Brigitte Bardot, Audrey Hepburn, James Dean und Jean-Paul Belmondo, die Breton Shirts in ihren Filmen trugen und damit einen weiteren Fashion Hype auslösten.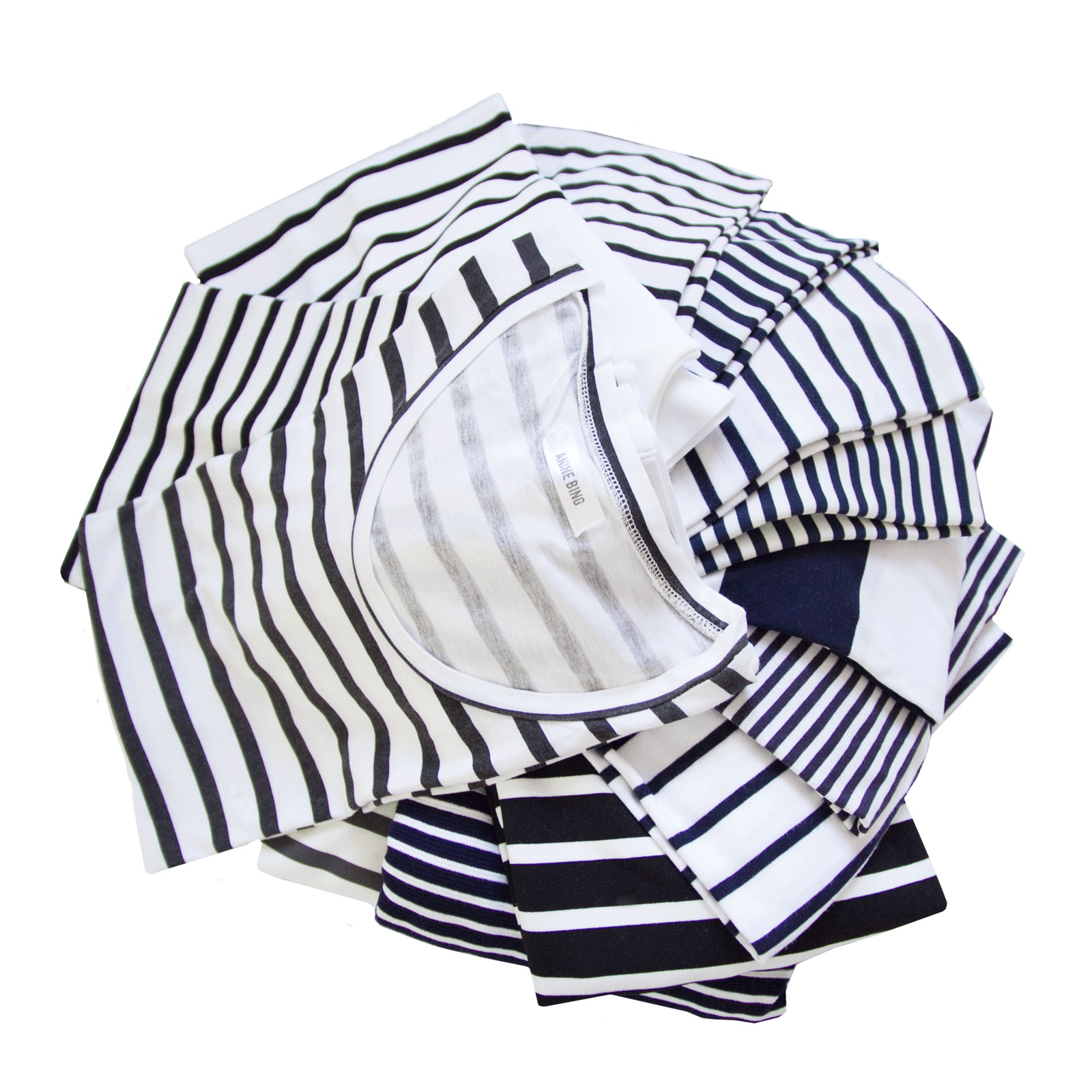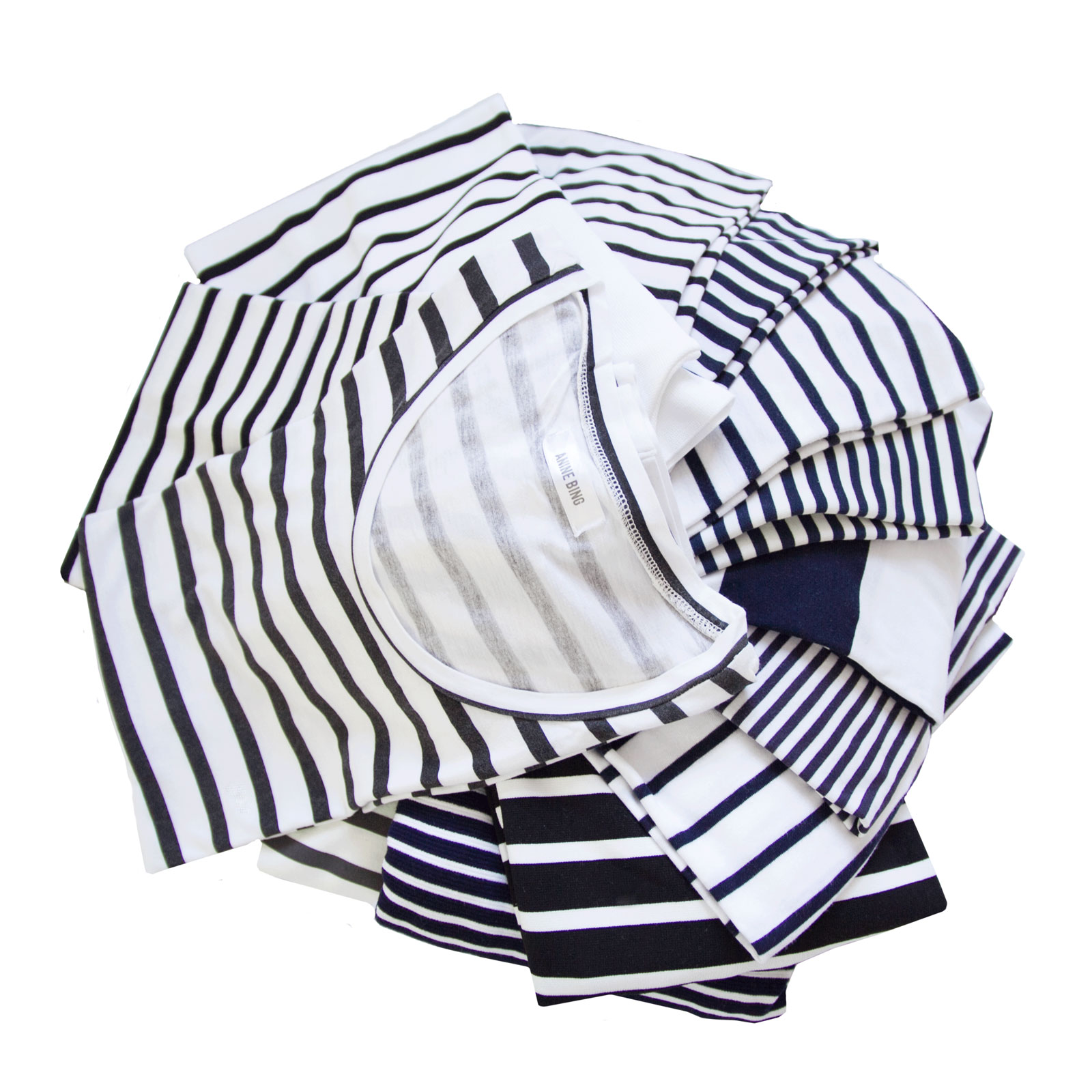 Statement
The striped design is still synonymous with the Parisian style and has already been picked up by countless designers for collections of Balmain, Gucci, Givenchy and many others. Anine Bing and Comme des Garçons created the most beautiful stripes of this year. The cult classic is also always present at Petit Bateau, COS and Zara. Everyone looks great in stripes, no matter what skin and hair color one has, the style allows everyone to shine and combine with basically anything. A beret or bandana are sweet accessories but the classic design also makes a statement in its simplest form. This is why the Breton shirt will always remain my beloved lifetime piece.
Are you like me? Do you share my love for stripes? I look forward to your comments!
•
Das Streifendesign steht bis heute als Synonym für den Parisian Style und wurde schon von unzähligen Designern aufgegriffen für Kollektionen von Balmain, Gucci oder Givenchy und vielen anderen. Anine Bing und Comme des Garçons hatten die schönsten Streifenshirts dieses Jahres. Den Kult-Klassiker gibt es aber auch immer wieder bei Petit Bateau, COS oder Zara. Das Schöne ist, dass die Streifen jedem stehen, egal welchen Alters, welcher Haut- oder Haarfarbe und dass sie sich mit wirklich allem kombinieren lassen. Süße Accessoires dazu sind ein Beret oder Bandana aber der Klassiker ist auch ganz schlicht ein Statement. Ein Grund mehr, warum das Breton Shirt immer mein heiß geliebtes Lifetime Piece bleiben wird.
Geht es euch genauso? Teilt ihr meine Streifenliebe? Ich bin gespannt auf eure Kommentare!