[Advertisement] What a nice idea! Westwing invited us to a Mother & Daughter Flower Workshop. A marvelous day with beautiful ladies, lots of fun and fantastic flower arrangements for a Christmas party.
---
[Dieser Beitrag enthält Werbung] Was für eine schöne Idee! Westwing hat uns zu einem Mother & Daughter Flower Workshop eingeladen. Ein toller Tag mit wundervollen Ladies, ganz viel Spaß und vier traumhaften Blumenideen für die Weihnachtsparty.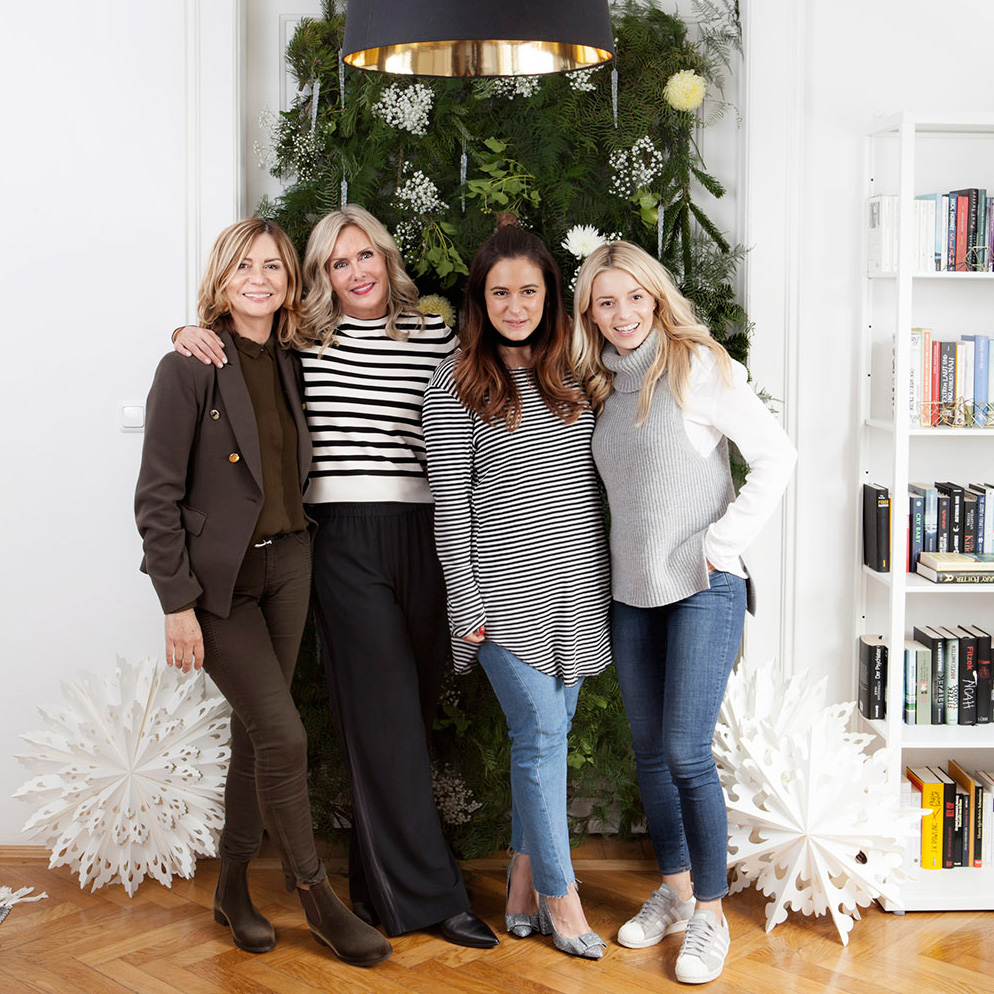 My sweet Lou and I were very happy to spend the day with Westwing founder Delia and her Mum Johanna. We met in the beautiful apartment of interior blogger Susanne. Stylist and photographer Anastasia led us through the workshop. What all six of us have in common is a great love of interior design and decoration. Since we are always looking for beautiful new ideas, we could hardly expect the announced Christmas themed flower creations.
---
Meine süße Lou und ich haben uns sehr auf den Tag mit Westwing Gründerin Delia und ihrer Mum Johanna gefreut. Getroffen haben wir uns in der wunderschönen Wohnung von Interior-Bloggerin Susanne, wo Stylistin und Fotografin Anastasia uns durch den Workshop führte. Was uns alle sechs sehr verbindet ist die große Liebe zu Interior Styling und Dekoration. Immer auf der Suche nach schönen neuen Ideen, konnten wir die angekündigten Blumen-Kreationen zum Thema Weihnachtsparty kaum erwarten.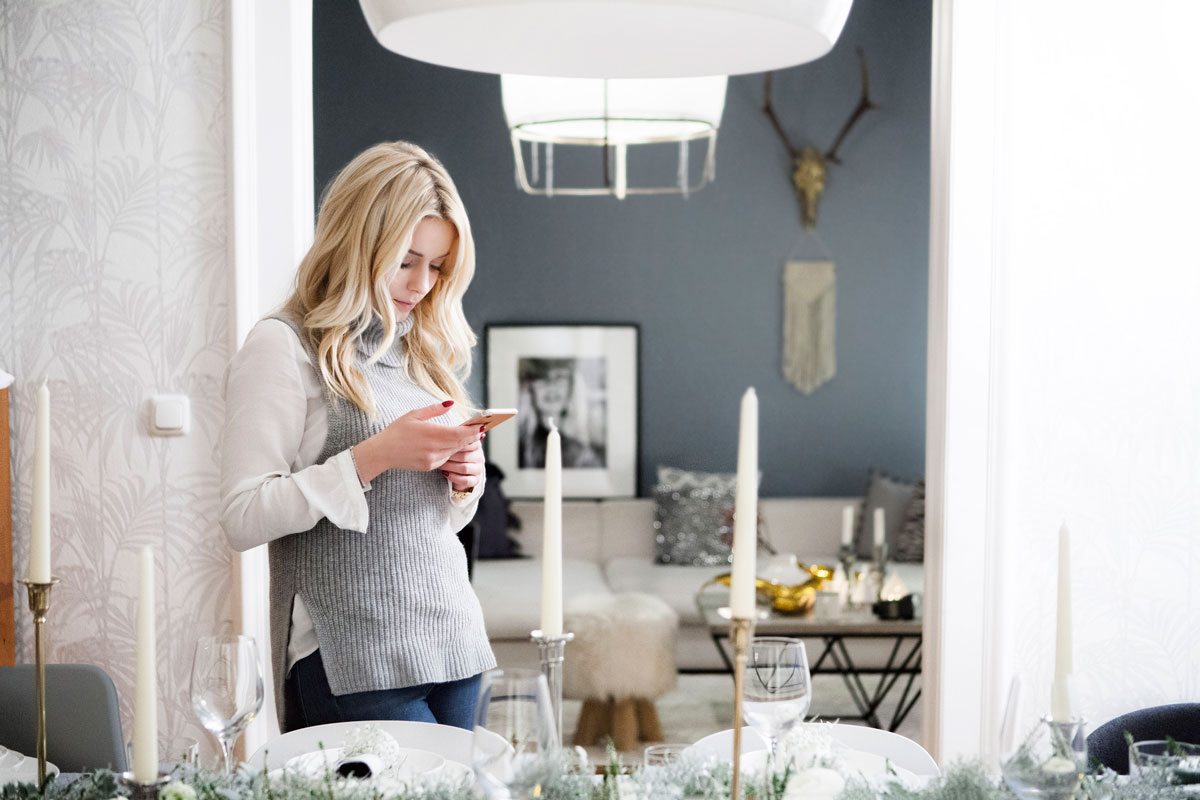 Xmas Flower Workshop
Anastasia gave us many interesting tips on image design and photography. For example, how sets are optimally staged and certain things are put into focus. It was super exciting for all of us because it will help us to create even better Instagram and blog posts in the future. Then the workshop began:
---
Nach einem Mother & Daughter Übereinstimmungsspiel hat Anastasia uns viele interessante Tipps zu Bildgestaltung und Fotografie gegeben. Wie Sets optimal inszeniert und bestimmte Dinge in den Fokus gesetzt werden. Super spannend für uns alle um Insatagram- und Blog Posts in Zukunft noch ein bisschen besser in Szene setzen zu können. Dann ging es auch schon los:
Table Decoration
A festive Christmas dinner is something special. You have your favorite people around you, delicious food, good wine, wonderful music and everything smells like a special mix of fir, candle, cinnamon, orange and anise. I love this atmosphere so much!!! In order to decorate the table accordingly, Anastasia brought along a flower arrangement idea whose result was not only beautiful but also very impressive. In doing so, it is very easy to implement, if one knows how and with what:
• Chicken wire, baby's breath, cushion bush, white erica, white ranunculus and dusty miller.
The chicken wire was trimmed to about 200 x 40 cm, bent into a semicircle, and the garland, then arched, was placed on the table. Then we cut the different plants to about 12-15 cm and put them cross-wise into the grid gaps and inserted a few white deco objects. That's it, a super-fast arrangement, especially if you work on it with several people.
The gray-green and white color gradations of the plants give a beautiful wintery image, as if covered with ice crystals.
---
Eine festliche Weihnachtstafel ist etwas Besonderes. Man hat seine Lieblingsmenschen um sich, leckeres Essen, guten Wein, schöne Musik und alles duftet nach diesem besonderen Mix aus Tannen, Kerzen, Zimtsternen, Orangen und Anis. Ich liebe diese Stimmung so sehr!!! Um den Tisch entsprechend besonders zu dekorieren hat Anastasia eine Blumenidee mitgebracht, deren Ergebnis nicht nur wunderschön sondern auch sehr imposant ist. Dabei ist sie ganz leicht umsetzten, wenn man weiß wie und womit:
• Kaninchendraht, Schleierkraut, Silberkraut, weiße Erika, weiße Ranunkeln und weißfilziges Geißkraut
Der Kaninchendraht wurde auf etwa 200 x 30 cm zurecht geschnitten, zu einem Halbkreis gebogen und die nach oben gewölbte Girlande dann auf dem Tisch platziert. Danach haben wir die verschiedenen Pflanzen auf etwa 12 – 15 cm gekürzt, kreuz und quer in die Zwischenräume des Gitterdrahts gesteckt und ein paar weiße Deko-Objekte eingefügt. Das war's schon und es geht superschnell, wenn man zu mehreren daran bastelt.
Die grau-grünen und weißen Farbabstufungen der Gewächse ergeben ein wunderschönes winterliches Bild, wie mit Eiskristallen überzogen.
Flower Wall
• Chicken wire, fir, spruce, ivy, asparagus fern, coral fern and white chysanthemums
The base for the flower wall was again chicken wire, which was cut to the desired size. The plants were shortened to about 25 cm and a blanket of fir and spruce branches was inserted into the wire spaces. Afterwards, we added the ornamental parcel and coral fern, and finally, a few accents with veil and white crysanthemums. Et voilà! This was fast and looks insanely beautiful.
---
• Kaninchendraht, Tanne, Fichte, Korallenfarn, Zierspargel, Efeu und weiße Chysanthemen
Die Basis für die Blumenwand war wieder Kaninchendraht, der auf die gewünschte Größe zugeschnitten wurde. Die Pflanzen haben wir auf etwa 25 cm gekürzt und zunächst eine Decke aus Tannen- und Fichtenzweigen in die Drahtzwischenräume eingearbeitet. Danach kamen Zierspargel und Korallenfarn dazu und zum Schluss wurden noch ein paar Akzente mit Schleierkraut und weißen Crysanthemen gesetzt. Et voilà! Auch das ging schwuppdiwupp und sieht wahnsinnig schön aus.
Flower Ceiling
• Baby's breath, cushion bush and Christmas rose
A sweet idea was also the helium-filled white balloons, to which we bound with gift ribbon a Christmas rose, some cushion bush and some baby's breath.
---
• Schleierkraut, Silberkraut und Christrosen
Eine süße Idee waren auch die heliumgefüllten weißen Ballons, an die wir mit Geschenkband je eine Christrose, etwas Silber- und Schleierkraut gebunden haben.
Bouquet
From all these plants, Anastasia also conjured a beautiful, asymmetrical, wild and wintry bouquet of flowers. All important tips and tricks are shown to you in this video.
As you can see, it is not so complicated to design a great festive flower arrangement yourself. Just try it!
---
Aus all diesen Pflanzen hat Anastasia dazu noch ein wunderschönes, asymmetrisches, wildes und winterliches Blumenbouquet gezaubert. Wie genau und worauf man dabei achten sollte zeigt sie euch in diesem Video.
Wie ihr seht, ist es garnicht so kompliziert eine tolle festliche Blumendeko selbst zu gestalten. Versucht es einfach mal!

Where to get it
Candlestick | Kerzenhalter Saturn  
Candlestick | Kerzenhalter Elegance
Tree Decoration | Baumanhänger Diamond  
Deco Object | Deko-Objekt Étoile